Dear Members of the Albanian Muslim Society of Toronto,
The Albanian Muslim Society of Toronto warmly invites all members of the mosque to a family picnic event on Saturday, June 24, 2023 beginning at 10am at Centennial Park, Etobicoke Picnic Area 4.
The purpose of this faithful gathering is to bring together our Albanian Muslim Community on the first weekend of summer. We will have plenty of free delicious food alongside exciting activities for the kids to enjoy.
This day isn't just about enjoying a meal; it's about celebrating our shared faith, strengthening our community bonds, and creating memories that will last a lifetime. Let's come together and make this event unforgettable!
We kindly request that you confirm your participation by signing up through the email list below.
https://form.jotform.com/231425890589366
We look forward to seeing everyone there and may God bless you and your families,
The Board of the Albanian Muslim Society of Toronto
Centennial Park – Picnic Area 4
256 Centennial Park Rd Etobicoke, ON M9C 5N3
Saturday June 24 2023| Starts at 10:00AM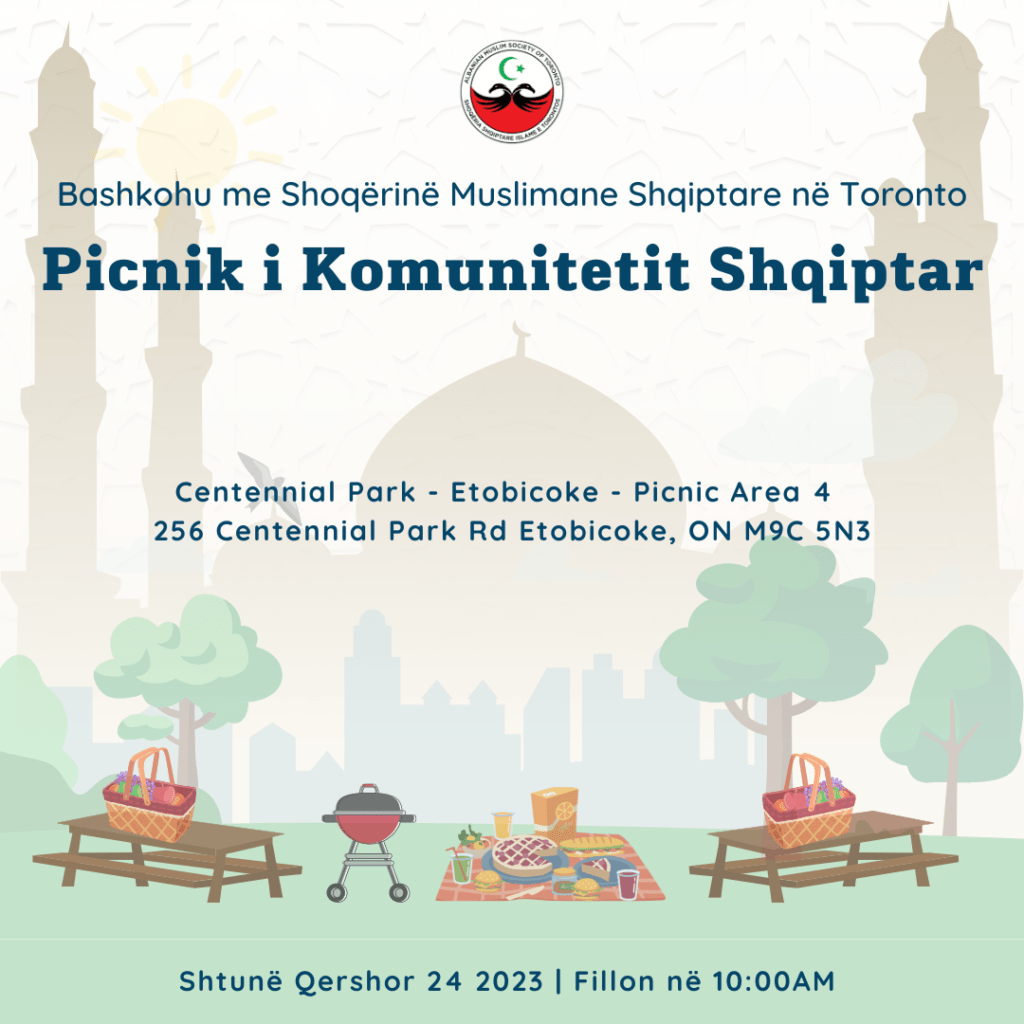 Anëtarë të nderuar të Shoqërisë Muslimane Shqiptare në Toronto,
Shoqëria Muslimane Shqiptare e Toronto ju fton me ngrohtësi të gjithë anëtarët e xhamisë në një ngjarje pikniki për familjet, e cila do të mbahet të shtunën, më 24 qershor 2023, duke filluar nga ora 10:00 në Parkun Centennial, Zona e Piknikut Etobicoke Nr. 4.
Qëllimi i këtij tubimi të besnikërisë është për të sjellë së bashku Komunitetin tonë Musliman Shqiptar në fundjavën e parë të verës. Ne do të kemi shumë ushqim të shijshëm falas së bashku me aktivitete të ngazëllyeshme për fëmijët për t'u argëtuar. Kjo ditë nuk është vetëm për të shijuar një vakt; është për të festuar besimin tonë të përbashkët, për të forcuar lidhjet e komunitetit tonë, dhe për të krijuar kujtime që do të zgjasin një jetë të tërë. Le të vijmë së bashku dhe ta bëjmë këtë ngjarje të paharrueshme!
Ju lutemi të konfirmoni pjesëmarrjen tuaj duke u regjistruar përmes listës së emailit më poshtë.
https://form.jotform.com/231425890589366
Presim me padurim të shohim të gjithë atje dhe Zoti t'ju bekojë ju dhe familjet tuaja,
Bordi i Shoqërisë Muslimane Shqiptare të Toronto
Centennial Park – Picnic Area 4
256 Centennial Park Rd Etobicoke, ON M9C 5N3
E shtunë 24 Qershor 2023 | Fillon në 10:00AM